July 2, 2019
In This Edition:
State Budget Focuses on Funding What Works
Judiciary Committee Studies Probation and Parole Reform
Senate Approves Bill to Expand Job Training Program Availability
Legislative Update: School Safety, Election Reforms and Agriculture
Fish-for-Free Day Scheduled for July 4
State Budget Focuses on Funding What Works
Lawmakers completed work on the state budget last week by passing a spending plan that meets the core responsibilities of government, does not include any tax increases, and provides new resources for career training and agriculture. The plan also sets aside approximately $300 million in the state's Rainy Day Fund in case of a recession, economic downturn or natural disaster to ensure future budgets can be balanced without a tax increase.
The main focus of the budget is on funding programs that have the biggest impact in Pennsylvania communities. This includes additional funding for career and technical training, new funding to combat the heroin and opioid epidemic, increased funding to support domestic violence victims and rape crisis programs, restored cuts for school safety, substantial increases for child welfare programs on the county level, and funding for numerous programs to help individuals facing economic hardships.
I spoke about several of these programs during my remarks about the budget on the Senate Floor. Video of my remarks is available below.
Judiciary Committee Studies Probation and Parole Reform
The goal of probation and parole should be to help people turn their lives around and re-integrate into the community. Unfortunately, the current system falls short of this goal in many ways. This not only deprives offenders of a second chance to rebuild their lives, but also leads to inflated costs to taxpayers.
The Senate Judiciary Committee held a pair of hearings last week to examine bipartisan legislation I introduced along with Senator Anthony Williams to update probation policies to reduce the amount of time and money that is devoted to probationers who have completed their sentences.
The hearings included testimony from a variety of experts, including judges, district attorneys, criminal justice reform advocates, victims' groups, and many other individuals and organizations who are committed to improving the current system.
A complete lineup of testifiers and video of both hearings are available here.
---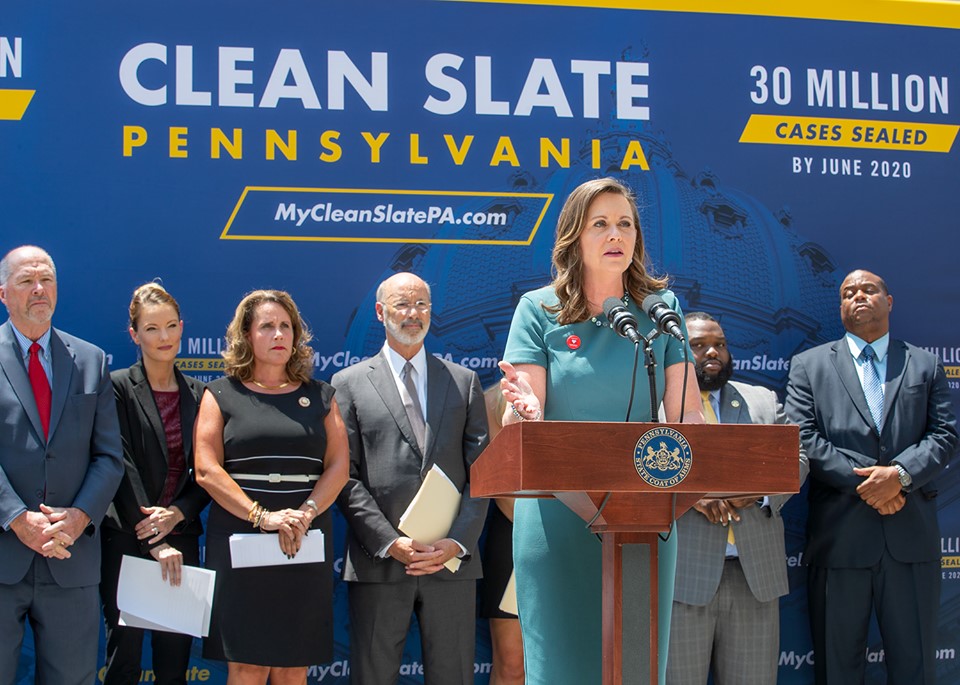 As co-chair of the Criminal Justice Reform Caucus, I was pleased to join Governor Wolf and a number of my colleagues and criminal justice reform advocates for a news conference to celebrate the automatic sealing of 30 million low-level criminal records by 2020 in Pennsylvania due to the enactment of the Clean Slate Act in 2018. Pennsylvania is the first state in the nation to authorize this step to give past offenders a second chance to rebuild their lives without the stigma of a non-violent criminal conviction on their record.
Senate Approves Bill to Expand Job Training Program Availability
Career and technical schools offer many different programs that provide a pathway for students to find family-sustaining jobs. The Senate has approved a bill that I authored to help make these programs available to a broader number of students.
In current practice, technical schools can only establish a branch campus within the same county as the primary site. A school that wanted to open a branch campus in a different county would be forced to deal with a mountain of red tape in order to secure another license for the second location. This severely limits the kinds of training programs that are available in many communities.
My bill would eliminate this restriction and allow schools to create branch campuses in neighboring counties and other locations within 60 miles of the primary location. More details about the proposal are available here.
Legislative Update: School Safety, Election Reforms, and Agriculture Bills Move Forward
As lawmakers worked to pass a fiscally responsible state budget, the Senate and House of Representatives also approved several packages of bills designed to address pressing needs in our communities.
After supporting a broad school safety bill last year, I was pleased to support additional reforms this year that will help minimize the risk of violent incidents in our schools by focusing on student behavioral health and trauma-informed education. More on this package of bills is available here.
A package of election reforms also earned final passage in the Senate. The bills would allow voters who are registered as independents to vote in primary elections, address ballot printing costs, eliminate straight-party voting, and create a special board to review election laws to help improve election security and reduce costs.
Additionally, a broad package of bills to support Pennsylvania farmers earned final approval and were signed into law this week. The measures included a number of bills to help beginning farmers and protect the future of the agriculture industry, while at the same time helping current farmers deal with existing challenges. More details about the bills are available here.
---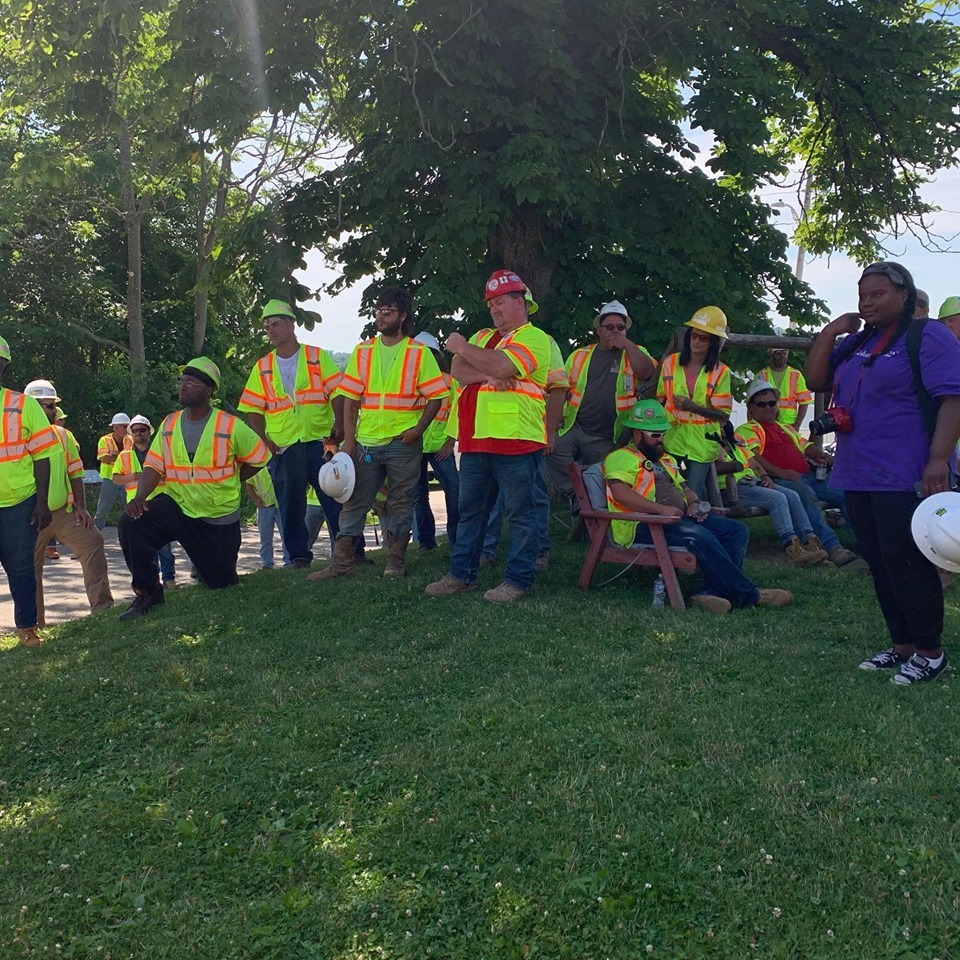 Thank you to Columbia Gas of Pennsylvania, InfraSource, the United Way of Washington County, Southpointe Construction and McCluskey Contracting for teaming up to make some amazing improvements at the LeMoyne Community Center. All of the volunteers deserve kudos for a job well done!
Fish-for-Free Day Scheduled for July 4
In order to help more beginning anglers enjoy the sport of fishing, the Pennsylvania Fish and Boat Commission is offering a Fish-for-Free Day on July 4 that will allow anyone to legally fish in Pennsylvania without a fishing license. All other applicable laws still apply.
More details are available here.
---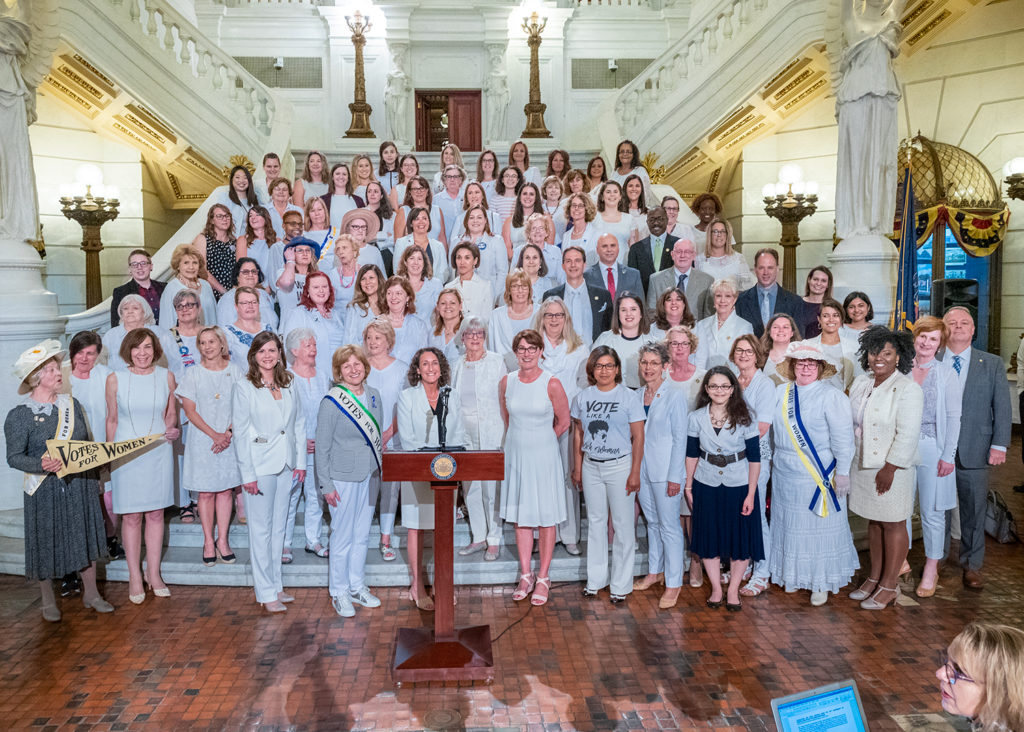 I was proud to join Pennsylvania Secretary of State Kathy Brookvar and my colleagues from the General Assembly to kick-off the 100th anniversary of Pennsylvania's ratification of the 19th Amendment, which guaranteed American women the right to vote.