Dear Friend,
I am pleased to send you this edition of my electronic newsletter. These e-newsletters enable me to provide information about issues, events and activities in Harrisburg and around the 46th Senatorial District to you in a timely manner while saving postage costs.
If you find this e-newsletter useful, I invite you to visit my website www.senatorbartolotta.com for more information about your state government. You can also keep up to date through Facebook (www.facebook.com/senatorbartolotta), Twitter (www.twitter.com/senbartolotta) and Instagram (https://www.instagram.com/senatorbartolotta/).
If you do not wish to receive these e-newsletters, please click the "unsubscribe" button at the bottom of the page.
Sincerely,
Camera Bartolotta

House Unanimously Approves Tierne's Law
The House of Representatives approved a bill this week that I introduced to help protect victims of domestic violence. The bill would help district judges identify offenders who pose a continued danger to the people they victimized.
Senate Bill 449 would clarify that judges can use risk assessment tools to set bail in domestic violence cases. These tools have proven to be effective in predicting an abuser's odds of re-offending and creating a dangerous circumstance for victims.
The bill was named in honor of Tierne Ewing, a Washington County resident who was kidnapped and later murdered by her estranged husband in August 2016.
The bill was amended in the House and sent back to the Senate for final approval. I believe that we can act quickly to send this bill to the Governor's desk to be signed into law in the near future.
---
Congratulations to the area's newest Eagle Scout, Chase James Ambrose. The rank of Eagle Scout is the highest honor that can be earned through the Boy Scouts of America.
---
Southwestern PA Transportation Projects Announced
Last week, Secretary Leslie Richards of the Pennsylvania Department of Transportation (PennDOT) announced significant improvements and roadway projects for the 2018 southwest regional construction season. The department plans on investing more than $434 million this year across seven counties that encompass Allegheny, Beaver, Lawrence, Washington, Greene, Westmoreland and Fayette Counties. Overall, the department anticipates that roughly 146 highway and bridge projects will begin or are already underway for this construction season.
In PennDOT Engineering District 12, the department expects to address 125 miles of highways with repairs and resurfacing work and 98 bridge improvements this year.
Notable projects for District 11 that will continue this year:
Route 18/ Old Broadhead Road improvement (estimated $10-12 million)
Notable projects for District 12 that will continue this year:
I-70- Beau Street to Route 519 reconstruction ($118 million)
I-70- Bentleyville Interchange ($75.9 million)
Route 31 Donegal Interchange ($19.8 million)
Notable projects that are expected to begin this year include:
I-70- Route 31 Interchange ($66.9 million)
Route 356 truck climbing lane (estimated $15-20 million)
Route 519 at Route 980 and I-79 (estimated $25-30 million)
Ohiopyle Multimodal Gateway (estimated $10-15 million)
As construction projects are underway in the region, the public can anticipate travel delays in many work zones and are urged to keep in mind their safety and the safety of highway workers. When encountering a work zone, please drive the posted speed limit, turn on your headlights, pay close attention to signs and flaggers, and avoid all distractions. In high traffic locations, motorists are encouraged to use both lanes of travel to the merge point and are to take turns merging into open lanes.
For more information on current and future projects, visit www.projects.penndot.gov.
---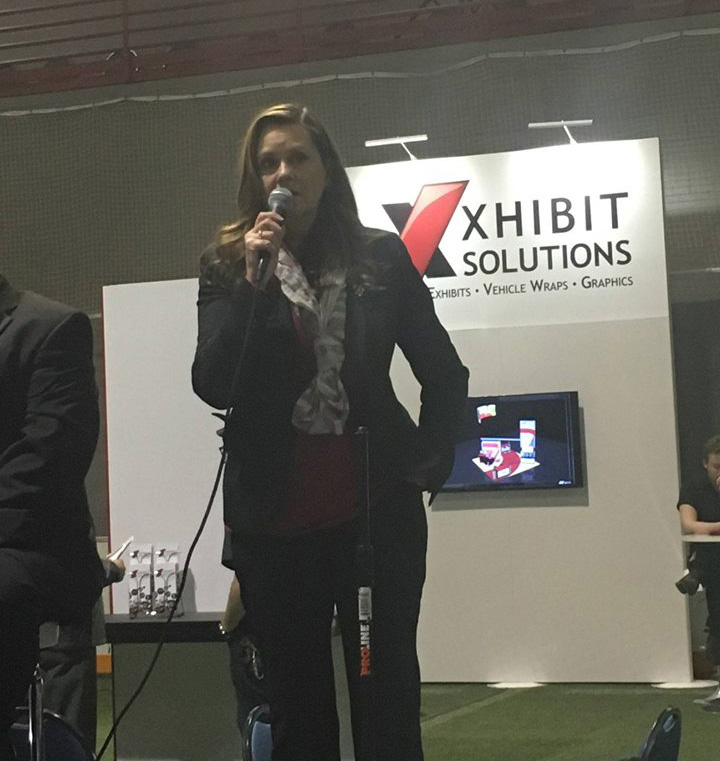 My thanks goes out to all of the community residents who stopped by my table at the Southpointe Chamber of Commerce Trade Show at the Printscape Arena.
---
Community Conversation Scheduled Regarding Postpartum Depression
Postpartum depression affects approximately 21,000 new mothers in Pennsylvania each year. It is critical to ensure women who are affected by this condition receive the support they need in order to avoid a number of severe health issues, both for themselves and their children.
#StrongMomStrongBaby will join with United Way of Washington County, myself and Acting Secretary of Human Services Teresa Miller for a community conversation about postpartum depression on Thursday, March 22 from 2-3 p.m. at the Washington Health System's William R. Cameron Wellness Center, located at 240 Wellness Way in Washington. The discussion will also include a number of other advocates, health care professionals and community leaders.
The conversation is designed to promote local perspectives on this problem while we continue our efforts in the General Assembly to extend additional services to mothers and babies who are affected by postpartum depression. Details about a bill I sponsored to expand early intervention services for infants and mothers affected by this condition are available here.
Senate Panel Completes Review of Governor's Budget Proposal
The Senate Appropriations Committee recently completed three weeks of budget hearings regarding the 2018-19 spending plan proposed by Governor Wolf last month. I am hopeful that the hearings will lead to productive negotiations for a fiscally responsible, on-time budget.
Highlights from the budget hearings, including video, photos and summaries, are available online at www.pasenategop.com.
Veterans Town Hall Planned in Pittsburgh on March 23
The VA Pittsburgh Healthcare System will host a town hall meeting specifically on veterans' issues in Pittsburgh on March 23. The meeting will help point out the strengths and weaknesses of the current system so the VA can improve services for the brave men and women who have served our country in the military.
The town hall is scheduled from 10 a.m. until 11:30 a.m. on the University Drive campus of the VA Pittsburgh Healthcare System. More details are available at www.pittsburgh.va.gov.