Dear Friend,
I am pleased to send you this edition of my electronic newsletter. These e-newsletters enable me to provide information about issues, events and activities in Harrisburg and around the 46th Senatorial District to you in a timely manner while saving postage costs.
If you find this e-newsletter useful, I invite you to visit my website www.senatorbartolotta.com for more information about your state government. You can also keep up to date through Facebook (www.facebook.com/senatorbartolotta), Twitter (www.twitter.com/senbartolotta) and Instagram (https://www.instagram.com/senatorbartolotta/).
Sincerely,
Camera Bartolotta

Package of Bills Would Support More Efficient Criminal Justice System
Over the past decade, Pennsylvania has seen positive results from reform measures designed to improve the performance of our criminal justice system. In particular, the Justice Reinvestment Initiative (JRI) has helped to ensure taxpayer dollars are spent more wisely, while directing the savings from these efficiency measures to programs that help reduce crime and improve public safety.
In the near future, I plan to introduce legislation that is part of a package of bills designed to build on the success of this approach. The package of reforms would do the following:
Amend the Crime Victims Act to better provide information and compensation to victims.
Create a County Adult Probation and Parole Advisory Committee to advise the Pennsylvania Commission on Crime and Delinquency on funding, standards and training for county adult probation and parole departments.
Streamline the process for placement in State Intermediate Punishment and improve the process of paroling people who receive a short sentence to prison.
These bills represent another strong step toward a more efficient and effective criminal justice system. As the co-chair of the Criminal Justice Reform Caucus, I appreciate the efforts of my colleagues Senators Baker, Killion and Haywood for continuing the fight to build stronger and safer communities.
Senate Panel Completes 2019-20 Budget Hearings
The Senate Appropriations Committee completed its thorough annual review of the Governor's budget request last week. The three-week series of public hearings is an important part of the overall budget process because it allows lawmakers to question the performance of state departments and agencies.
I appreciated the chance to participate in the hearings this year in my capacity as the Chair of the Senate Labor and Industry Committee. In case you missed my line of questioning with the Secretary of Labor and Industry, the video is available here:
Full video and summaries of all of the hearings is available here.
REAL IDs Available Now
As part of the REAL ID Act of 2005, the federal government requires state issued driver's licenses and photo ID cards to meet stringent new security standards in order to be used as valid identification for entering federal government facilities and boarding commercial aircraft. PennDOT recently announced that they have started issuing REAL ID cards before the new requirements go into effect in October 2020.
The purchase of REAL ID-compliant licenses or photo ID cards is voluntary. If you do not wish to use your existing license or photo ID card to board a commercial flight or enter a federal building, you are not obligated to purchase one of the new REAL IDs. Passports, military ID and other federally acceptable identification will continue to be accepted for boarding a domestic commercial flight.
More details about how to purchase one of the new REAL IDs is available here.
---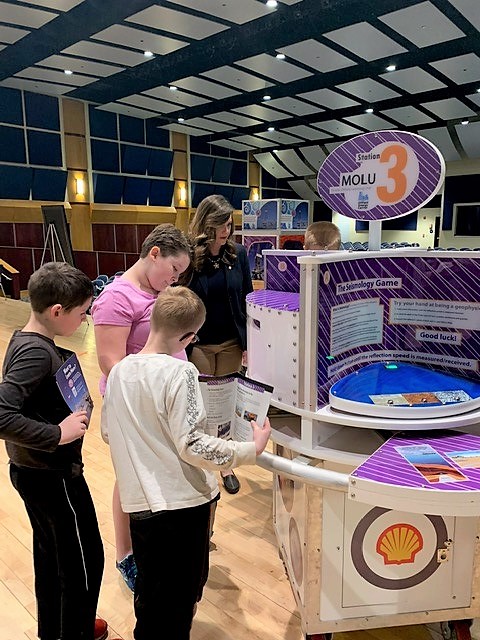 My thanks goes out to the Oilfield Energy Center for bringing the Mobile Oilfield Learning Unit (MOLU) exhibition to some of the schools in my district, and to all the MOLU's sponsors: MPLX, CNX, Range Resources, and Equitrans.
---
Fishing Season Opens April 6 with Mentored Youth Fishing Day
As the region finally begins to see the first signs of spring weather, many anglers are looking forward to hitting the water and enjoying their favorite hobby on Pennsylvania's lakes, rivers and streams. Although fishing season in our area does not officially begin until April 13, district residents can get a head start on sharing this popular activity with the next generation by participating in Mentored Youth Trout Fishing Day on April 6.
Adult anglers must possess a valid Pennsylvania fishing license and a current trout/salmon permit and be accompanied by a youth angler (less than 16 years of age) who has a Mentored Youth Fishing Permit or Voluntary Youth Fishing License. Details on how to participate are available at www.GoneFishingPA.com