Dear Friend,
I am pleased to send you this edition of my electronic newsletter. These e-newsletters enable me to provide information about issues, events and activities in Harrisburg and around the 46th Senatorial District to you in a timely manner while saving postage costs.
If you find this e-newsletter useful, I invite you to visit my website www.senatorbartolotta.com for more information about your state government. You can also keep up to date through Facebook (www.facebook.com/senatorbartolotta), Twitter (www.twitter.com/senbartolotta) and Instagram (https://www.instagram.com/senatorbartolotta/).
Sincerely,
Camera Bartolotta

January 10, 2019
New Legislative Session Offers Challenges, Opportunities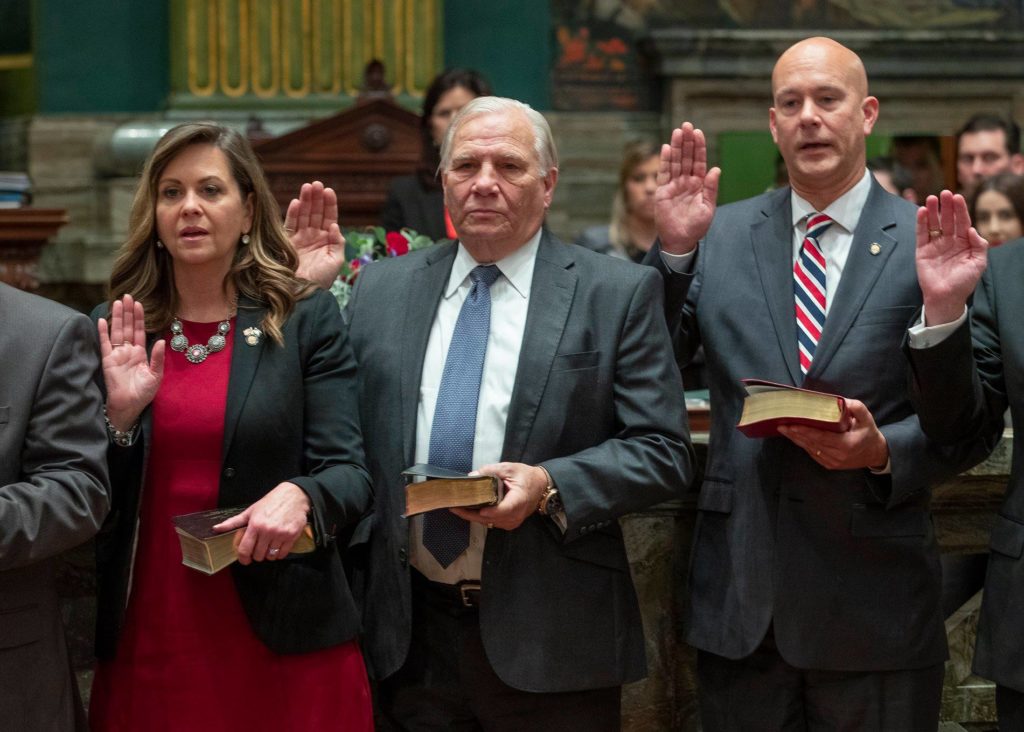 I was honored to join my colleagues on New Year's Day to take the oath of office to begin my second term serving in the Senate. I deeply appreciate the trust that community residents have placed in me, and I look forward to representing our area to the best of my ability in the years ahead.
New faces in the General Assembly and new chairs of standing committees create fresh opportunities to address some of the most challenging problems in our state and region. In the upcoming session, some of my priorities will include:
Improving the availability of health care services in rural communities by working to pass full practice authority for nurse practitioners.
Combating the deadly opioid epidemic by improving patient care and cracking down on drug dealers who cause serious bodily injuries.
Strengthening and improving our criminal justice system through the creation of a bipartisan Senate Criminal Justice Reform Caucus.
Supporting a fiscally responsible approach to the state budget in order to avoid the need for broad-based tax increases.
More information on these bills and other measures of interest to our region will be available in the weeks and months ahead on my website at www.senatorbartolotta.com.
Senate Committee Chairs Announced
Senate President Pro Tempore Joe Scarnati recently announced all of the Senate committee chairs for the 2019-20 Legislative Session. I was honored to be selected to serve as chair of the Senate Labor and Industry Committee, which is responsible for reviewing a wide variety of bills that affect both employers and employees.
One area that I am excited to address through this committee is workforce development. One of my highest priorities is ensuring residents of local communities have access to family-sustaining jobs, and that starts with ensuring our workforce has the knowledge and training they need to meet all of the demands of a 21st Century economy.
The panel will also consider bills that pertain to state building codes, Worker's Compensation, Unemployment Compensation, workplace safety, and more.
More information on my appointment and other topics relating to the Senate Labor and Industry Committee is available here.
The 103rd Pennsylvania Farm Show highlights the best of our state's agriculture community. At this year's event, I enjoyed speaking with Secretary of Agriculture Russell Redding, 2019 Farm Show Scholarship Foundation Award recipient Amanda Cole of Bentleyville, and Grand Champion Market Goat exhibitor Alexa Miles of Fort Cherry Junior/Senior High School. Congratulations to all of our local participants for making us proud!
State Residents Can Pre-verify for REAL ID Now
Beginning in October 2020, Pennsylvanians will need a new kind of driver's license or photo ID to board commercial airlines or enter federal buildings, including courthouses and military installations. State residents can pre-verify now to receive this new type of identification as early as March of this year.
Individuals who received their first learner's permit or photo ID after September 2003 can pre-verify online at www.penndot.gov/REALID. Motorists who received their first license before September 2003 can pre-verify by taking all required documents to any PennDOT Driver Licensing Center.
More information on the law and the pre-verification process is available here.
PennDOT Innovations Challenge Deadline is January 25
PennDOT's Innovations Challenge program is inviting high school students to submit creative ideas to get drivers to slow down in work zones. Teams of two to four students are encouraged to offer suggestions – other than legislation and educational campaigns – that could help prevent crashes and other life-threatening situations caused by speeding and distracted driving in work zones.
The deadline to participate in the program is January 25. Submission forms and additional details are available here.